At Cheshire Graniteline, we regularly work with businesses to making bespoke granite reception desks that are both practical and impactful.
In upscale markets, our clients usually want a reception desk that makes a statement. After all, this is the first physical impression that many of their potential customers will get.
But we think that the practical elements of a reception desk design are just as important. Just ask the people that use them most, the receptionists.
Library of Congress/Balthazar Korab
This image taken in General Motors' Technical Centre in Michigan, 1945, shows a very bold reception area. But we bet that the young receptionist would have complained about some of the more practical details of her workspace.
We spoke to some local receptionists and put together a number of tips based on what they told us makes the perfect reception area.
Install plenty of storage space to help keep reception tidy
Kim, the reception manager at a trendy office block in Trafford, made it clear that practicality should come first when designing an office reception area.
She said: "We get a ton of items and important documents every day. And our number one job is to keep track of all of them. We handle things like invoices, keys, post and notices but it's important that we don't look like we're flooded, because that's unprofessional.
"Over the years, myself and the team have developed lots of cunning drawers, slots, hooks and cupboards to help stay organised and make sure we don't lose anything. My advice to anyone redesigning a reception area would be to ask the receptionists. They are the people that will know."
Make sure the post is hidden from view
Jez, who works on the reception at a large corporate music studio told us about the importance of hiding the post.
He said: "We get loads of stuff delivered – everything from letters and amazon packages to huge pieces of equipment. When we get really big parcels it starts blocking up gangways which is not only ugly but it's also quite dangerous. I'd say this was the number one important thing to my bosses – that no one breaks their neck on site.
"We've got a big area underneath the staircase where we keep post hidden away – we've also recently got big new doormats that stop the floor getting slippery when it rains or snows."
Split the level of the reception area
Jo, receptionist in a city law firm told us that reception desks should be split over multiple levels, so receptionists can stand and sit with ease.
She said: "My job requires me to stand up and sit down. When I monitor phones or file returns I'm sat down but if I need to receive clients or sign for packages then I'm stood up. The reception desk makes this easier because it is split over two levels.
"I can stand up and be on the same eye level as the visitor. Or sit down and still have a clear view over the whole reception area."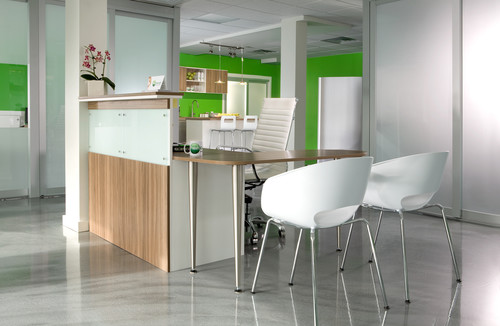 Make the reception desk stand out as the clear focal point in the room
Tony, who works the night shift in a city centre office block said that he needs to be the focal point as soon as someone enters the building.
He said: "Working nights I'd say that my job was mostly about security. I used to work in another building where my desk was cramped right into the corner. Sometimes people would just walk straight past me into the building which obviously shouldn't happen.
"Here though, my desk is up front and centre and it's lit up like a Christmas tree. I am the centre point of the room so even if someone tries to walk past me I can call them straight up."
Keep a divide between the reception and the visitor area
Sarah, who works in a hotel in Cheshire told us that it's important to keep a divide  between the reception desk and the visitor area.
She said: "There needs to be a clear divide between the reception area and the visitors area. If I'm working on something on something confidential on the computer I can't have someone behind me looking over my shoulder.
"Wide open reception desks aren't ideal I prefer one where there is no gap between the wall and the desk, or a small 'hatch' gap."
A comfortable place for visitors to sit nearby
Jan is an office receptionist in Stockport. She thinks that a receptionists top priority should be making visitors feel comfortable.
She said: "In our office I pushed for two big comfortable sofas for clients and other visitors to sit on. Sometimes visitors would be waiting ages and you can see them getting more uncomfortable and more upset about it.
"Now they can sit comfortably and I'll offer them a brew. I've even managed to get some up to date magazines brought in for people to read.
"My advice to anyone planning a reception area would be to think about where visitors are going to wait. Make sure there's enough space for a few people and keep them away from the doors if possible. Drafts turn into a nightmare when you're sat still for so long.
Whether you're looking for a bespoke new reception desk for your inner-city hotel, or a place to hold important clients before your big meeting, speak to Cheshire Graniteline about custom fitted design ideas.