Kitchen design trends come and go. Right here on this blog, we are sometimes guilty of promoting the latest design trends. And this is appreciated by people who want to stay up to date with the most current styles.
However, for every customer that wants to stay abreast of the latest fashions, there are an equal number of customers who want their kitchens to last for a long time.
For kitchen buyers that want value for money, solid stone countertops like granite, Silestone and Technistone are a strong investment. Truly timeless kitchens require a mixture of hardwearing materials and classic design.
How to design a timeless kitchen
The first thing to say is that it is difficult to create a truly timeless kitchen. True, some rural kitchens still look good today, but even traditional kitchens have been updated for the modern age. The first step to achieving a modern kitchen is to understand what can be done. Lifespans of between 10 and 20 years are seen as successful in an industry that changes frequently.
The market for kitchens is driven fundamentally by an industry that is obsessed with selling the latest appliance or appliance, each that slight bit more updated than the last. And of course, as the appliances change, the kitchen's skeleton must also evolve around it.
Similarly, the latest design trends, like hyperglossy cabinet doors and glass splashbacks, are popular for now. But this kind of chic design rarely stands the test of time.
Designing a timeless kitchen is more about what to avoid than what to use. Using solid materials that stand the test of time, and steering clear of 'trendy' finishes is the bare basics.
Wooden cabinets are better than glossy ones. Solid granite counters are better than composites or quick-to-age laminated kitchen worktops.
Your colour scheme should be simple. Bright colours have become very popular in recent years, but they can quickly lose their vibrancy, particularly as you and your friends get older and more refined.
Toned down neutral colours tend to be safer bets in the long term. But there is no reason that you cannot introduce colour in other creative ways. Using fixtures and fittings in brighter colours gives you the chance to introduce vibrancy into your kitchen in a more temporary way.
Try painting the ceiling an interesting colour. Or strip down and paint your wooden chairs.
When it comes to choosing appliances, we believe it is better to plump for slightly more expensive items that have already stood the test of time.
Hand built in the UK since the 1950s, Dualit toasters have barely changed their design in all that time. They rarely look out of place in any kitchen design.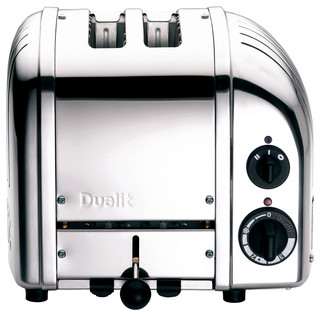 Again, when it comes to things like cookers, it can pay to look towards the higher end of the market. Purchase a solid range cooker that will last for generations. This is a definite classic style and if you choose a removable one, you might even be able to keep the cooker when it comes to remodelling your kitchen in 15 years' time.