Thinking about giving your kitchen a makeover in 2016? Here are five of our favourite design trends to give you a little bit of inspiration. If you would like any design advice or want to know more about Cheshire Graniteline's kitchen services the please telephone: 01606 841 074.
Dual-tone natural wooded cabinets
Kitchen designers are getting braver and braver these days, and we think that sometimes they can go too far. If you are looking for a bit of an experimental, that still feels clean and natural, then why not shoot for this two-tone upper and lower cabinet look.
You can experiment with light and dark wood colours, or use varnish or a wood sander to get different tones.
Jazzed-up white kitchens
For a stylish twist on the classic modernist kitchen why not try jazzing up your white room. A bold and unique feature, like the colourful wall of tiles pictured below can really set off an otherwise plain looking kitchen.
Throw in a few splashes of stainless steel and add some industrial looking stools and light fittings and there you have it – jazzy.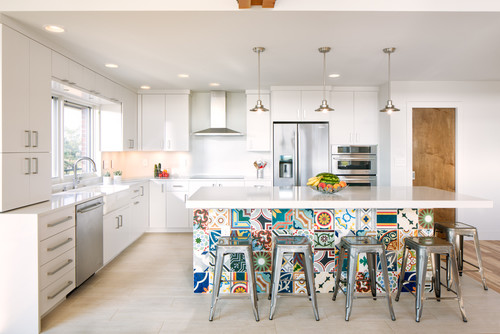 Smart drawers for your tech
You have probably noticed that technology has come to play a big role in modern day family life. Kids and grown-ups alike are guilty of spending long hours looking into the screen of a laptop. But curiously enough, nobody had invented a convenient place to store all the families electronic equipment – until now.
Install a new unit in your kitchen that will become the designated spot for storing smart appliances. It doesn't have to be anything fancy, a unit with thin draws will do, just make sure there is space to cut charging ports into the back.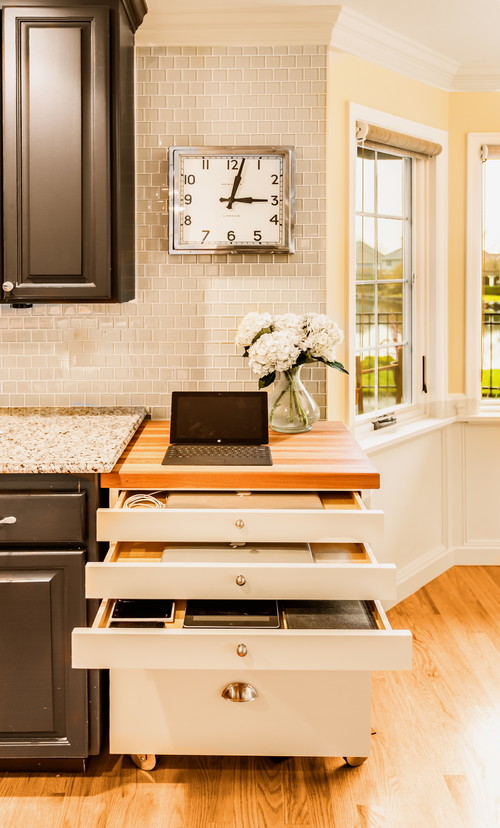 Soft colour palettes
Changing the colour scheme of your kitchen doesn't have to be that expensive, and it can really breathe new life into a kitchen that has fallen behind the times. Although kitchens are still largely dominated by white, there is a definite trend towards softer and more muted tones.
Try experimenting with pastel colours like pale blue, pale green or shades of grey and charcoal.
Mediterranean kitchen with a heavy marble motif
For a more traditional kitchen with a Mediterranean twist you could install thick wooden cabinets topped with a heavy marble lid. Monolithic stonework like that pictured below is a great way to make a statement in the kitchen. You can get this look by choosing a high quality piece of marble and getting it fitted on the walls and in the sink as well as on cabinet surfaces.
Follow the links to see Cheshire Graniteline's range of marble and edge finishing products that could help you achieve this trending look.